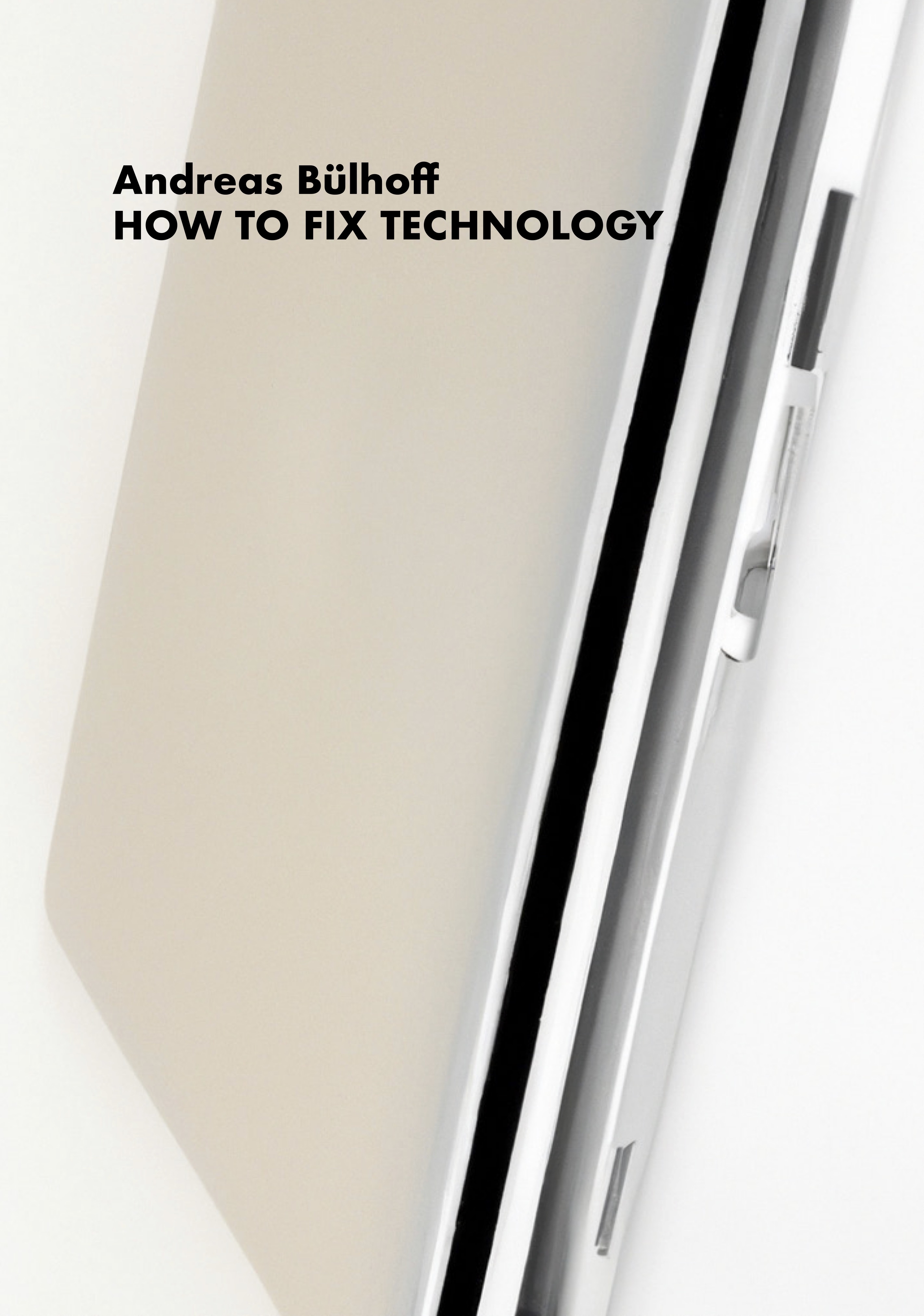 0x0a is happy to publish Andreas Bülhoff's How to Fix Technology today. The text of this book was generated by the neural network GPT-2 trained on the complete tutorial data of iFixit. For each sentence, the text-to-image neural network Dall-E 2 generated a corresponding image.
The abundance of tutorials is one of the internet's greatest achievements. Tutorial culture not only runs counter to the monopolist, surveillance platform capitalism most digital technology is part of today. It also represents freely shared knowledge and empowers its users to unravel the black boxes that surround us – two aspects of the early internet imaginary that seem to have prevailed. And yet, they too are bound to the general structure of commerce and control.

more…
Hannes Bajohr
·
2021-11-24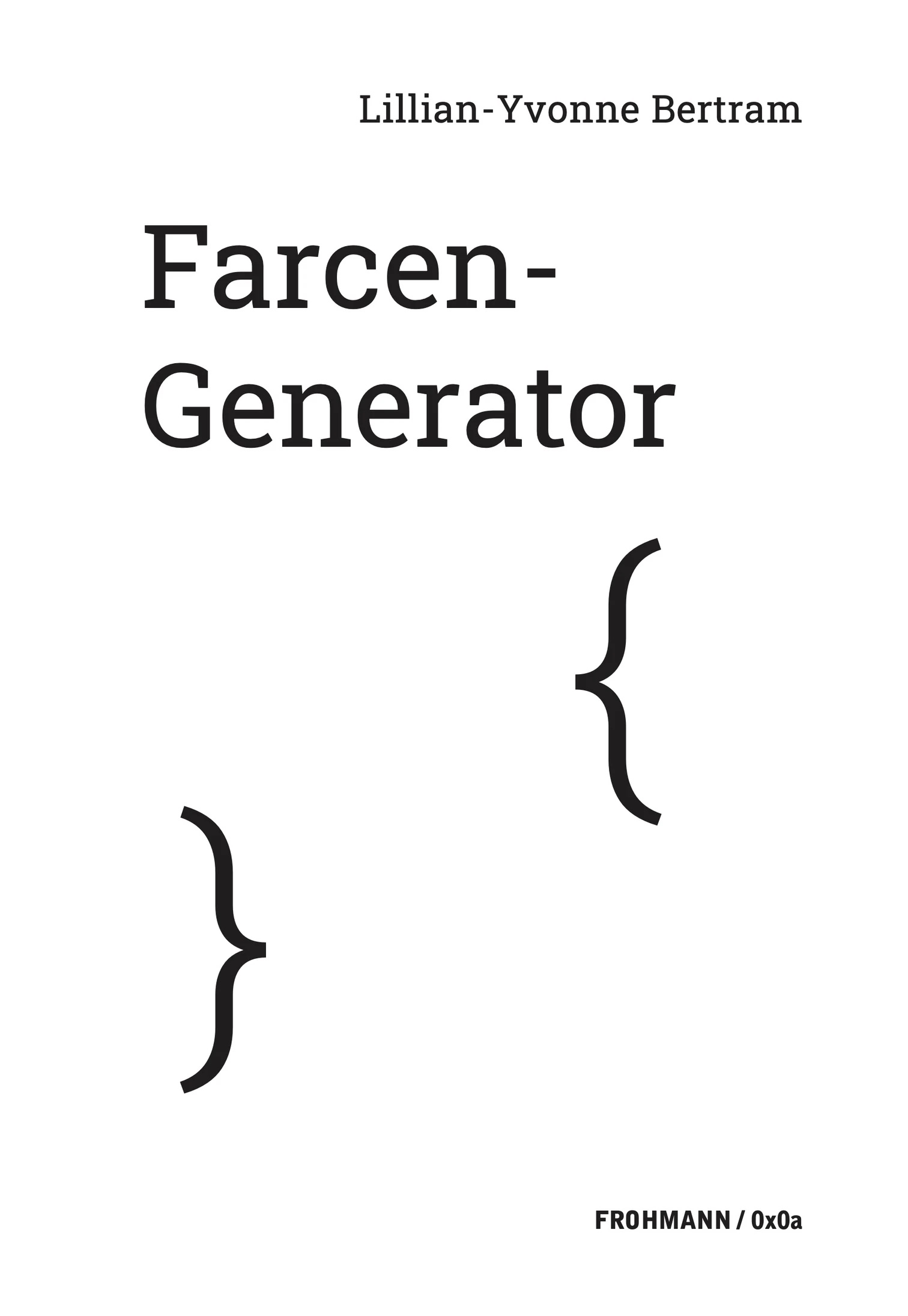 0x0a is proud to publish the German-language translation of Lillian-Yvonne Bertram's Travesty Generator under the title Farcen-Generator. You can find the original, which came out with Noemi Press, here.
Hannes Bajohr, who translated the book, spoke with Bertram about her work:
What is Travesty Generator? How does it compare to your other work?
Travesty Generator is technically my fourth full-length book of poetry and writing. None of my previous books are computational—however, all of my books share a spirit of innovation and experimentation. In that sense, while computation isn't strictly part of my previous books, algorithms, combinations, and attempts at mathematical processes, are part of my work and have been since the beginning. So my previous books don't "look" computational, but there are poems in them that come from thinking computationally and algorithmically, and Travesty Generator is an evolution of the experimental affinities across my work as a whole.

more…
Hannes Bajohr
·
2021-10-19
The "Academy for the Criticism of Poetry" held a workshop on digital poetry in the fall of 2021. Its results can now be seen as a video. The topics include some of our titles but also other digital poets and friends of 0x0a.
Hannes Bajohr
·
2021-08-04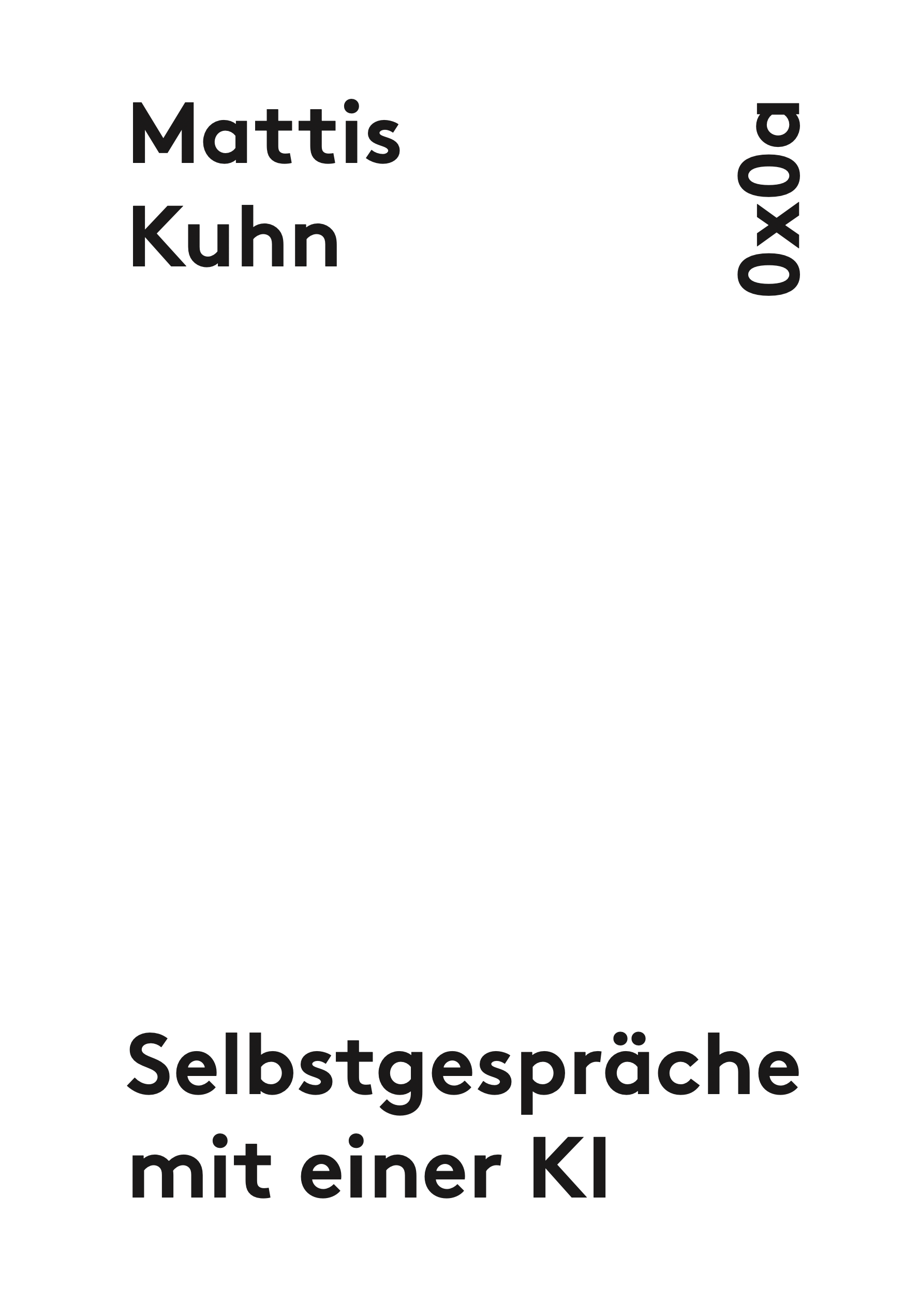 For some years now, computer-generated artifacts have been flourishing, primarily those created by means of AI. While it was initially images and videos that caused a stir, there is increasing discussion about machine language models that are used to analyze and synthesize texts. Both contribute to the machine-assisted construction of reality. In the process, we are transforming not only our world but also ourselves: New forms of self-description are emerging. The book Selbstgespräche mit einer KI (Soliloquies with an AI) attempts to realize these developments in the confrontation with (executable) text, through analysis and reflection as well as through synthesis and poetry.
more…
Hannes Bajohr
·
2021-03-30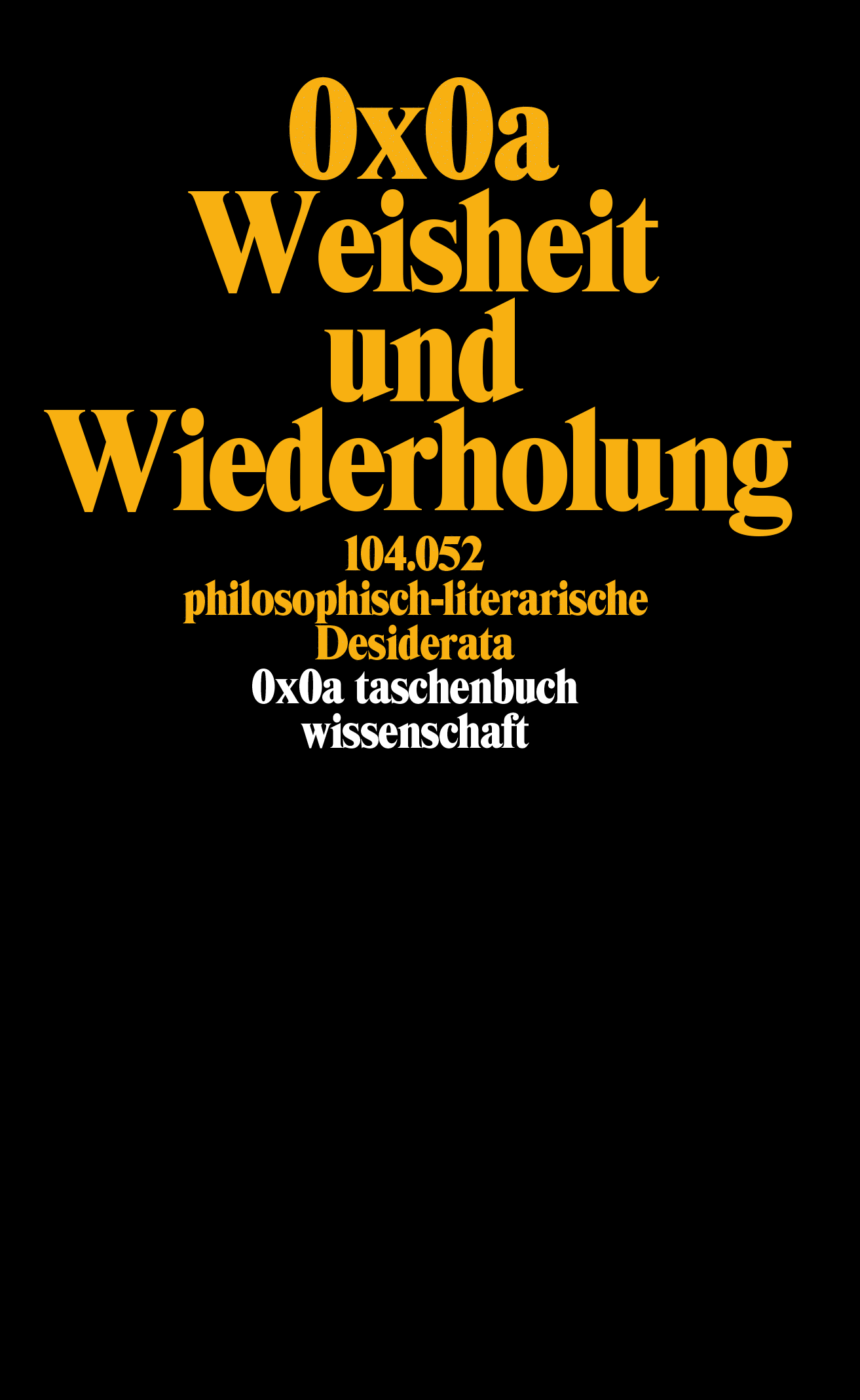 »Und« verbindet und trennt, koordiniert und hält auf Abstand. Doch bleibt das Verhältnis zwischen zwei durch »und« gekoppelten Termen ambivalent, kann sowohl Zusammengehörigkeit wie Gegensatz ausdrücken. Vielleicht dieser Vagheit wegen sind sie als Titel vor allem für philosophisch-literarische Großwerke populär: Sein und Zeit, Wirtschaft und Gesellschaft, Kritik und Krise, Mohn und Gedächtnis.
Aber noch ist nicht alles gesagt. Was ist mit Mohn und Zeit, Wirtschaft und Kritik, Sein und Krise? Es bleibt auch für zukünftige Diskursgrößen viel zu tun. Das Kompendium Weisheit und Wiederholung versammelt die Titel von 104.052 noch zu schreibenden Büchern: Eine To-do-Liste intellektueller Selbstbeschäftigung, erstellt durch alle möglichen Permutationen der von Hendrikje Schauer und Marcel Lepper gesammelten Titelpaare (Works & Nights, 2018).

more…
Hannes Bajohr
·
2020-06-26
Deep Dreaming der Lyrik: Poetisch denken hieß ein Buch von Christian Metz über vier Dichter*innen, die für ihn die Lyrik der letzten zwanzig Jahre wesentlich bestimmt haben: Monika Rinck, Jan Wagner, Ann Cotten und Steffen Popp. Poetisch denken heißt auch diese Sammlung, die je ein neues Buch von Rinck, Wagner, Cotten und Popp enthält, generiert mit dem neuronalen Netz GPT-2 und auf Grundlage aller in Metz' Buch erwähnten Titel. 

more…
Hannes Bajohr
·
2020-06-10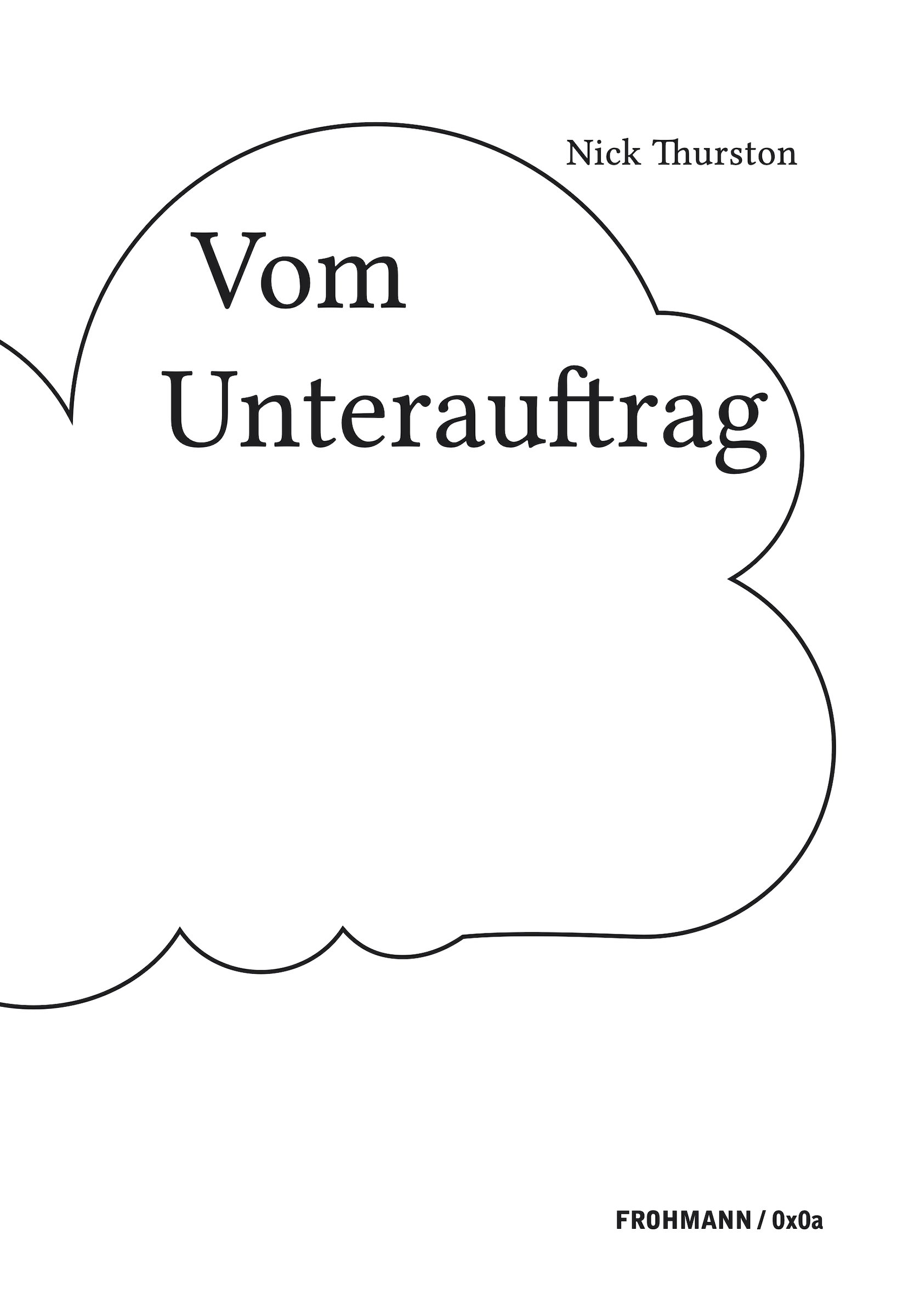 0x0a is proud to publish the German translation of Nick Thurston's Of the Subcontract. You can find the English version here, and the German translation here.
Nick presented the book at the Poesiefestival 2020 (in English) with an introduction by 0x0a member Hannes Bajohr (in German). Watch it below:
Hannes Bajohr
·
2019-07-06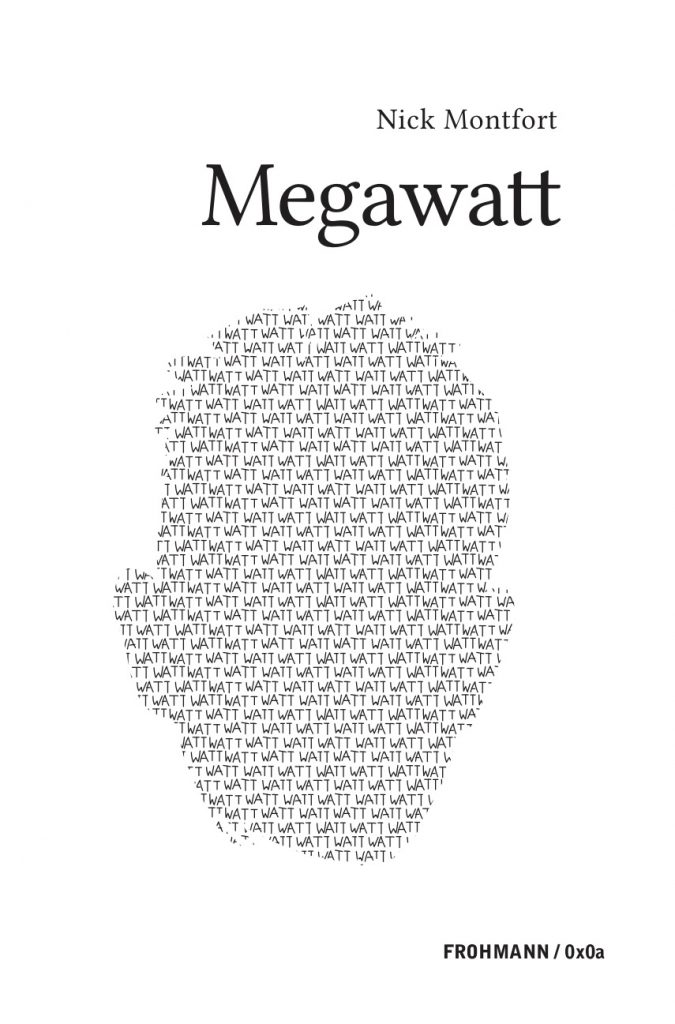 We are happy to announce the German translation of Nick Montfort's book Megawatt. More in German.
Und die arme alte, lausige Erde, die meine und die meines Vaters und meiner Mutter und der Mutter meiner Mutter und des Vaters meiner Mutter und der Mutter meines Vaters und des Vaters meines Vaters und der Mutter der Mutter meiner Mutter und …
More about Megawatt and its genesis in this article from 2015.
Here you can find Nick's website.
Hannes Bajohr
·
2018-04-23
[Der folgende Text erschien am 27.2.2018 in der NZZ unter dem Titel »Unermüdlich dichtet das Maschinchen«.]
Digitale Literatur – was war das noch? Damals, tief in den neunziger Jahren, schwärmten Literaturwissenschaftler von der Hyperfiktion, von Texten ohne Zentrum, durch die sich der Leser selbst seine Pfade schlagen und per Link beliebig von Abschnitt zu Abschnitt gelangen konnte. Was aber einigen als Zukunft der Literatur erschien – in der sich vor allem liebgewonnene Konzepte der Postmoderne wiederfinden ließen –, war bald zu einem Genre ohne Leser und, schlimmer noch, ohne Produzenten geworden. Es gibt sie nicht mehr.
Und heute? Müsste in Zeiten der Digitalisierung die digitale Literatur nicht eigentlich das zentrale Genre der Gegenwart sein? In der Tat gibt es heute eine quicklebendige, aber nur wenig beachtete Szene. Anders als damals geht es nicht mehr darum, mehr oder minder konventionelle Texte durch Linkverzweigungen ihrer Linearität zu berauben. Heute wird der Computer selbst zum Textproduzenten. Das Ergebnis ist eine ganz andere Literatur, die von den Bedingungen des Digitalen erzählt, wie es ein klassischer Realismus nie könnte.
more…
Gregor Weichbrodt
·
2017-01-12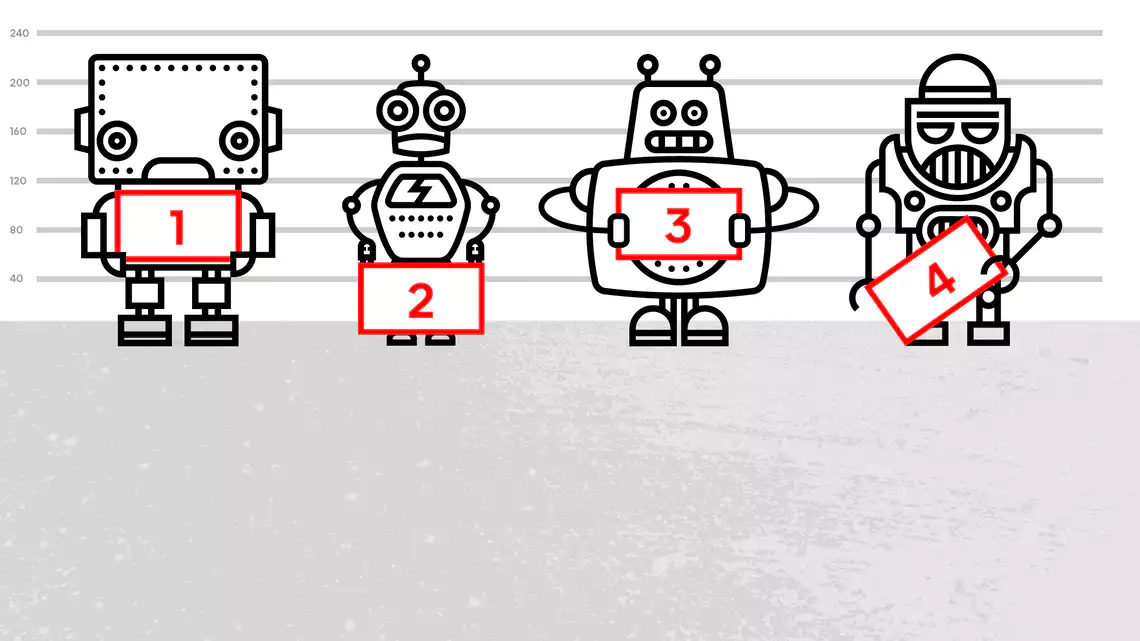 [Dieser Text erschien zuerst auf Krautreporter am 1. Dezember 2016.]
more…