Nun, zur ersten Montagsdemonstration des Jahres 2015 meldet sich PEGIDA zu Wort. Die Bürgerbewegung, die den Kontakt zur Presse bisher ablehnte, antwortet jetzt den Bürgerrechtlern – ebenso in Form eines Gedichtes.
more…
Hannes Bajohr
·
2015-01-01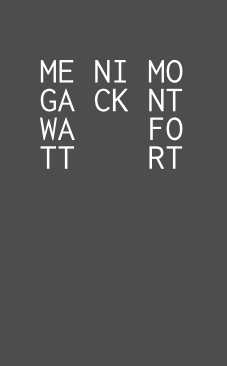 more…
Gregor Weichbrodt
·
2014-12-04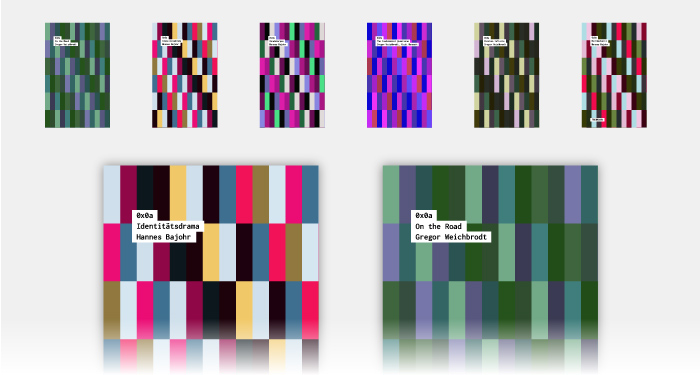 We have decided on a consistent cover design for all works that come out under the 0x0a label. The cover art is generative, and based on about 130 lines of Processing code. Generative in this context means: The looks of the cover are completely determined by certain variables taken from the text itself.
more…
Hannes Bajohr
·
2014-11-24
(This text was written in German before 0x0a came into being. A shorter version appeared in the journal Merkur (June 2014), and a longer one, from which the below translation was made, on my website hannesbajohr.de. The text was mainly geared toward a German, non-tech audience unfamiliar with conceptual writing. I put it online because it is part of the immediate pre-history of 0x0a, and one of the motivations for it. — I owe special thanks to Julia Pelta Feldman for her thoughtful editing.)
In the 1960s, Ian Sommerville wrote an extremely simple program on a Honeywell 200/120 computer. The input was a string ("sentence") whose n elements ("words") were separated by spaces. These elements were rearranged according to all possible combinations, and all permutations ("lines") returned on a monitor as a text block ("poem"). A "sentence" made up of n "words" thus yields a "poem" consisting of n! "lines." If n=5, this equals 5×4×3×2×1=120. The input "I AM THAT I AM" produces:
I AM THAT I AM
AM I THAT I AM
I THAT AM I AM
And so on, until line 120. This input sentence was by artist and poet Brion Gysin, who commissioned Sommerville to write the little program.[1] His stated intention: To refrain from adding any external meaning to the result – the permutated text was supposed to disclose its sense on its own.
more…
Hannes Bajohr
·
2014-11-15
On Friday, I did something I usually loathe. I went to a Poetry Slam. This one was different, however, as its title indicated: The first ITP Code Poetry Slam, held at the fourth floor of NYU's Tisch Hall, home of the Interactive Telecommunications Program.
I went, tipped off by Jakob Nolte, in order to have a look at a current of digital literature that does not take its cue from conceptualism in the vein of Goldsmith, Place, et al. I was initially worried that, as a link on the event's website indicated, code poetry in the most literal (and uninteresting) sense would be present – code as poetry, sometimes executable, sometimes just mimicking the aesthetics of programming languages. But I was somewhat reassured by the fact that Allison Parrish, who wrote the @everyword twitter stream, would be part of the event: Parrish, an artist and programmer, tries to operate not (or not exclusively) from the inside of coding culture (with its obscure in-jokes and references making up most "real" code poetry), but tries to bring the means for generative production of literature to those who are writers in the first place. She taught a course on "Reading and Writing Electronic Text" at ITP, and much of the poetry presented was a result of that class.
more…
Hannes Bajohr
·
2014-11-09
"We" is a violent word. Not only because a We always requires that You or They be excluded: The violence of We is also an inclusive one. To say "We" is to take possession of those one presumes to speak for. We consumes. And yet, it seems that the only way to resist We is with another We.
Unless, that is, one can elude all this We-speak. The 25 years that have passed since the fall of the Berlin Wall, or die Wende — which an official We, that of reunified Germany, celebrates today — have not been long enough to digest all the little Wes, the ones spoken for and thus consumed. If one goes back to that time — whose images today are icons of a linear, inevitable course of history — and looks at its verbal images, a multiplicity of Wes emerges that can only persist as independent.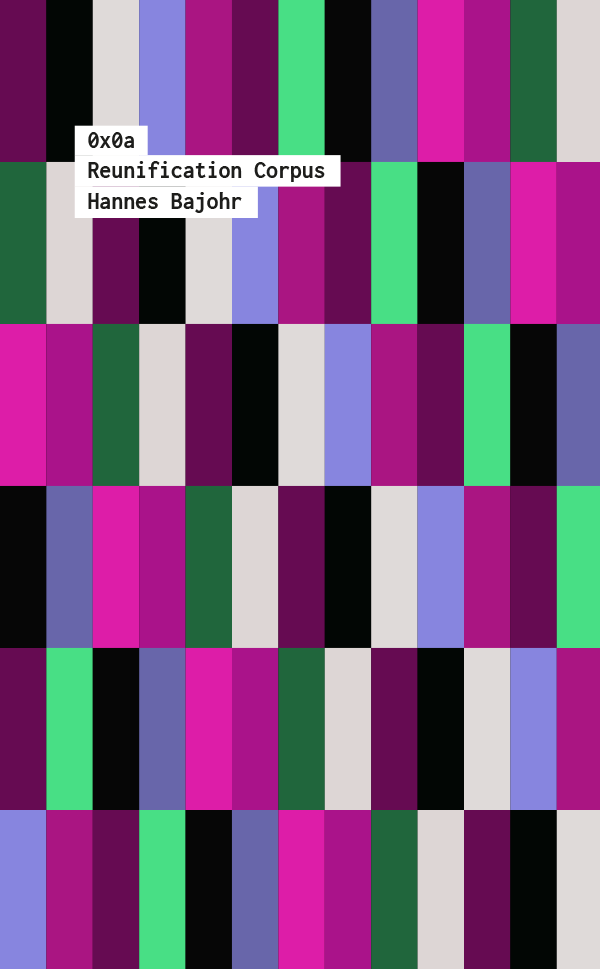 Reunification Corpus
Hannes Bajohr
Translated by Julia Pelta Feldman
2014
6979 Characters
Download: pdf
more…
Gregor Weichbrodt
·
2014-11-06
Communication Design, the discipline I have been studying for the past four years, looks at the elements and techniques of narratives and appropriates them. In the case of "On the Road" I did exactly that with the character and the story of globetrotter Sal Paradise from Jack Kerouac's novel of the same title, who ventures on a journey all across the US to find himself.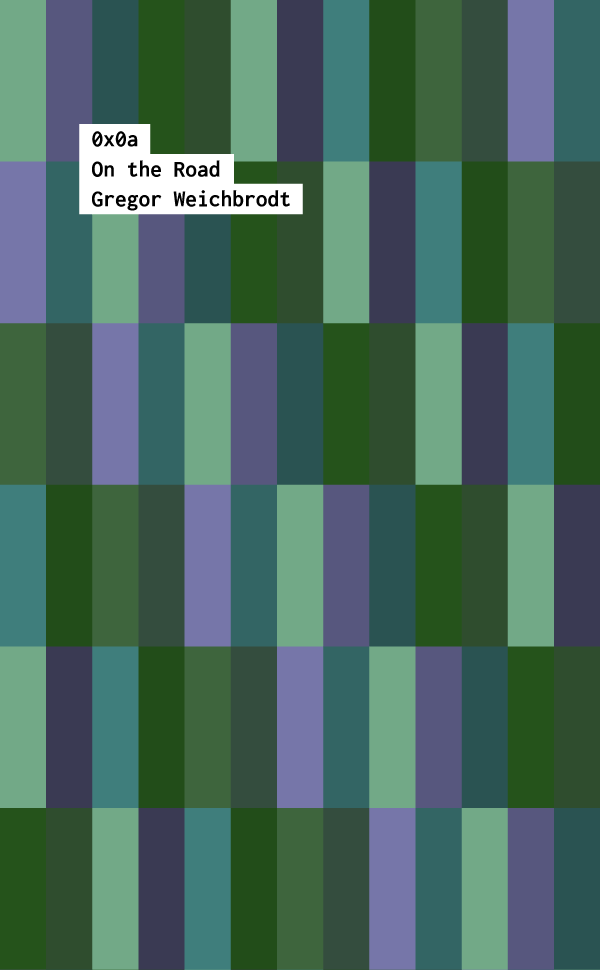 On the Road
Gregor Weichbrodt
2014
53973 Characters
Download: pdf
I remember a friend showing me pictures of his last trip to South America, all the while explaining how he got there and whom he had met. This procedure went on for about an hour and in the end I was bored to death. I did not tell him that but he finally must have noticed that I was not exactly ravished by his narrations. Later that night I turned on my laptop and saw the Instagram and Facebook pictures of people who had documented their three-week paradise beginning to end. Anyone with a cell phone camera chronicles, shares, and comments on the events of their trips. Experiences like Sal Paradise's don't seem to be unique anymore – the romantic idea of the globetrotter is antiquated.
more…
Hannes Bajohr
·
2014-11-01
Last Saturday, the good people from Fiktion and the Goethe Institute New York hosted a five hour long examination of literature in the digital age. Besides luring in onlookers with crowdpleasers like Boris Groys and Kenneth Goldsmith, "The Word Electric" offered talks and discussions by a range of, mostly US based, literary magazines (Genius, The Rumpus, Words without Borders), publishers (Sorry House, O/R Books, Badlands Unlimited, Fiktion), and artists (Emily Segal, Paul Chan, Goldsmith).
This was all very interesting, but given the title, it was not what I expected. "The Word Electric" was the least discussed topic, amidst all the talk of how to finance, promote, and develop a literary magazine/website/publishing house on the internet. This focus on the entrepreneurial practicalities – and in Paul Chan's case, downright cheerful capitalism affirmation – reminded me of what Gregor told me about a similar event at the Frankfurt Bookfair last month. At least partly a theme of the Electric Book Fair was the ebook, and the hopes attached to the format as a new way of distributing literature and an economic model, without actually talking about the literature distributed [see however Fabian's comment below]. The Word Electric was absent there as it was here.
more…
Gregor Weichbrodt
·
2014-10-22
Ab heute ist die Website des Textkollektivs 0x0a online. Erste Texte und Statements sind bereits aktiv, weitere folgen in Kürze.
0x0a versteht sich als Labor für Digitale Literatur und eskaliertes Schreibenlassen und besteht aus Gregor Weichbrodt und Hannes Bajohr.