On Friday, hidden away in the West Village, one block from the Hudson, the very necessary School for Poetic Computation showcased a quickly growing branch of digital literature: bot poetry. The event had been organized last minute by Allison Parrish to make up for Darius Kazemi's official bot summit that was put off until next year.

more…
Gregor Weichbrodt
·
2015-06-16
1
Ich habe eine Erweiterung (Plugin) für den Chrome-Browser geschrieben, die die Untertitel-Scripte der ARD- und ZDF-Mediatheken im Ganzen zur Verfügung stellt und anzeigt. Zum einen als Fließtext, bei dem der Text in Sprecherrollen unterteilt wird. Zum anderen als SubRip- und XML-Untertitelformat (.srt und .xml).
Mit diesem Plugin wird nicht nur das Zitieren von Fernsehinhalten erleichtert. Auch wird der Zugriff auf eine Textressource vereinfacht, die prinzipiell für jeden verfügbar, in der Praxis allerdings schwer ausfindig zu machen ist: Untertitel.
more…
Gregor Weichbrodt
·
2015-04-15
0
I am happy to see that my On the Road project has been transformed into a stage performance by Michael Durkin and the people from 14th Street in Philadelphia at Plays & Players theater. Details about the show can be found here. The complete performance can be viewed on Youtube here. More shows are about to come.
Gregor Weichbrodt
·
2015-03-23
2
Kimono by kimonolabs offers a user-friendly method for grabbing the contents of websites in a structured way. Without needing to know anything about programming, you can compile enormous collections of texts. This service is especially useful when websites do not offer APIs, that is, interfaces with which one can gather data directly (as does Twitter). Instead, you build your own API with Kimono, and get as output a JSON, RSS, or CSV file that contains the text from the particular website.
more…
Hannes Bajohr
·
2015-01-29
31
Die Dresdner Pegida-Märsche, die ab Winter 2014 eine Größe annahmen, die bundesweit für ein plötzliches Aufschrecken sorgte, wurden ausschließlich über Facebook-Seiten organisiert und angekündigt. Dass die Verteidiger des Abendlandes gegen den Islam es mit den christlichen Tugenden nicht so genau nahmen, wussten die Veranstalter. Sie löschten die in den Kommentaren geposteten Ausfälle und Tiraden ihrer Anhänger in regelmäßigen Abständen zusammen mit ihren eigenen Postings.
Anfangs nur zu Dokumentationszwecken ließ 0x0a (Gregor Weichbrodt und Hannes Bajohr) diese Kommentare durch ein Scraping-Script regelmäßig sammeln. Seit Dezember letzten Jahres ist bis heute ein 282.596 Kommentare und 7.751.654 Wortformen umfassendes Textkorpus der Pegida-Sprache entstanden. Erst jetzt umfangreich genug um repräsentativ zu sein, stellen wir es heute online. Zwar enthält es, da ungefiltert gesammelt, auch die Stimmen der Gegner Pegidas, dennoch ist diese Datenbank zur linguistischen Auswertung nicht weniger als zur literarischen Nutzung geeignet.
more…
Gregor Weichbrodt
·
2015-01-12
0
At Frohmann-Verlag, two new 0x0a texts have been released.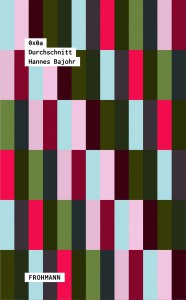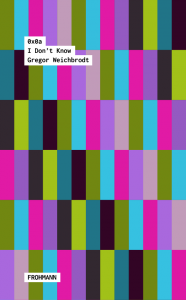 Gregor Weichbrodt
·
2015-01-05
3
Nun, zur ersten Montagsdemonstration des Jahres 2015 meldet sich PEGIDA zu Wort. Die Bürgerbewegung, die den Kontakt zur Presse bisher ablehnte, antwortet jetzt den Bürgerrechtlern – ebenso in Form eines Gedichtes.
more…
Hannes Bajohr
·
2015-01-01
3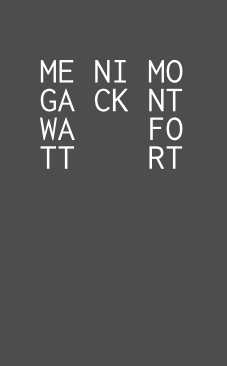 more…
Gregor Weichbrodt
·
2014-12-04
0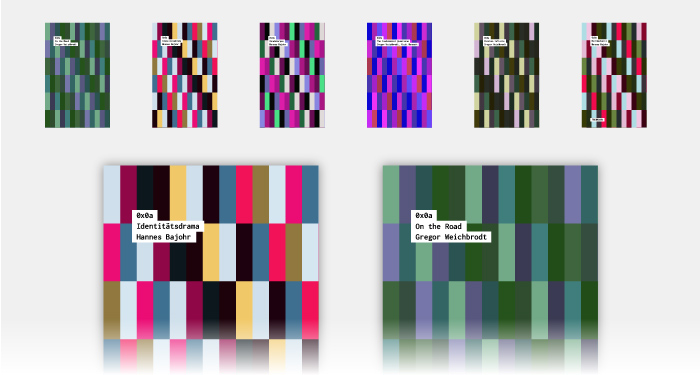 We have decided on a consistent cover design for all works that come out under the 0x0a label. The cover art is generative, and based on about 130 lines of Processing code. Generative in this context means: The looks of the cover are completely determined by certain variables taken from the text itself.
more…
Hannes Bajohr
·
2014-11-24
1
(This text was written in German before 0x0a came into being. A shorter version appeared in the journal Merkur (June 2014), and a longer one, from which the below translation was made, on my website hannesbajohr.de. The text was mainly geared toward a German, non-tech audience unfamiliar with conceptual writing. I put it online because it is part of the immediate pre-history of 0x0a, and one of the motivations for it. — I owe special thanks to Julia Pelta Feldman for her thoughtful editing.)
In the 1960s, Ian Sommerville wrote an extremely simple program on a Honeywell 200/120 computer. The input was a string ("sentence") whose n elements ("words") were separated by spaces. These elements were rearranged according to all possible combinations, and all permutations ("lines") returned on a monitor as a text block ("poem"). A "sentence" made up of n "words" thus yields a "poem" consisting of n! "lines." If n=5, this equals 5×4×3×2×1=120. The input "I AM THAT I AM" produces:
I AM THAT I AM
AM I THAT I AM
I THAT AM I AM
And so on, until line 120. This input sentence was by artist and poet Brion Gysin, who commissioned Sommerville to write the little program.[1] His stated intention: To refrain from adding any external meaning to the result – the permutated text was supposed to disclose its sense on its own.
more…